Our paving experts are here to help you complete any paving project you have in mind.
As our name states, we at R & R Paving and Grading specialize in paving services. We have been working in the paving industry for the past three generations, and we have the right knowledge and experience to take care of all your paving needs. If you are looking for a team to pave a new driveway, street, or parking lot for you, or if you need to replace your existing asphalt, we encourage you to give us a call.
When you turn to our team for help with
paving
projects, you can trust us to take care of every step in the process from start to finish. We will survey your worksite and perform all the necessary excavation to ensure it is properly graded and water will drain away properly. Next, we'll take care of installing the gravel base layer and then will lay the asphalt to create the high-quality pavement you need. Lastly, we'll apply a sealcoat to protect it from the elements and ensure that it lasts as long as possible and paint it with the necessary lines and markings to direct drivers where to go. If you want to know more about our paving services, we encourage you to reach out to our experts.
Our team is proud to serve the Crossville, Tennessee community, and we want to help you with all your paving needs. If you have a paving project in mind, just give our team a call to get our experts on the job.
Fast, efficient, and quality work.
"They did an amazing job paving our driveway! Fast, efficient, and quality work for a reasonable price. I would absolutely recommend them to anyone looking for a paving company!"
★★★★★ Sommer C.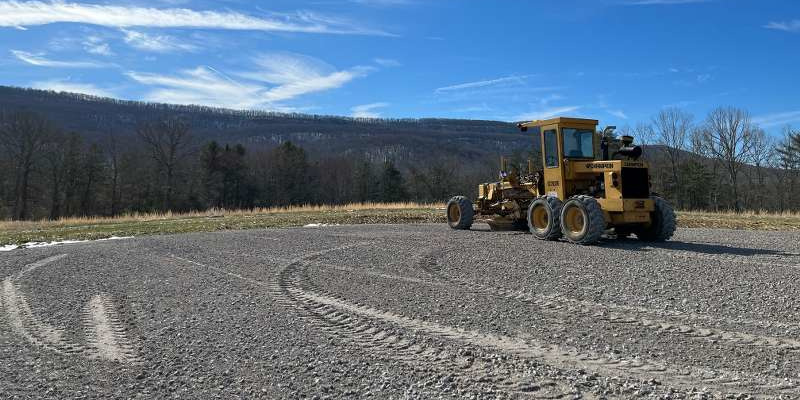 Grading
We'll handle all the excavation and grading to ensure your pavement sheds water properly.
Paving
Our team has over 30 years of experience in the paving industry, so you can count on us to help you with all your paving needs.
Striping
Our team provides striping services to ensure drivers using your pavement will always know where to go.
We provide top-notch asphalt paving services.
FAQs About Paving
Our team at R & R Paving and Grading offers the top-notch paving services you need to make your property the best it can be. If you have questions about our paving services, keep reading to get the answers you need. You are, of course, welcome to contact us with any other questions not addressed below.
Why should I have my driveway paved?
We recommend that you have your driveway paved for several reasons. First, a paved driveway is easier to drive and park on than a gravel or dirt path, especially in bad weather. Unlike a dirt path, an
asphalt
driveway will not turn into mud when it rains. Second, a paved driveway is easier to maintain than an unpaved one. Third, paving your driveway will increase the value of your home and can also make it easier to sell when the time comes.
When is the best time to have my driveway paved?
If you are interested in paving your driveway, we recommend that you do so during the spring or summer, when the weather is warm. It will be easier for our team to prepare your site during the warmer months, when we won't have to worry about dealing with snow on the ground or frozen soil.
Can I pave my own driveway?
While it is technically possible to pave your own driveway if you do your research and choose the right type of paving, we wouldn't recommend doing so. Experienced paving technicians like those on our team will be able to deliver higher-quality results than you could achieve on your own, and we'll save you a great deal of time and effort as well. In addition, if you want to pave your driveway in asphalt, you will definitely need to hire professionals, as the materials and equipment needed to do so are not readily available to DIYers and laying asphalt requires more than one person.
---
At R & R Paving and Grading, we offer paving services for customers in Crossville, Tennessee and the surrounding area, including Cookeville, Sparta, Livingston, Spring City, and Jamestown.
Why Choose R & R Paving and Grading?
Our team has three generations of experience in the paving industry, and we are committed to delivering top-notch results. We strive to stand apart from other paving companies through the quality of our services, and we encourage anyone who needs help with a paving project to reach out to us.
Asphalt may be the perfect material for your project.
Similar Services We Offer: